In the Outlook Taskbar your tasks will be listed for all the mailboxes you have attached to your Outlook, so this will include shared mailboxes and your own mailbox.
You can group these by mailbox to make them easier to view.
1. In the Task bar, click on Arrange By and select View Settings;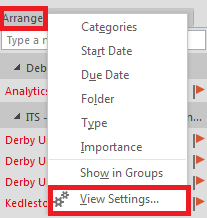 2. Select Group By...;
3. Untick Automatically group according to arrangement;
4. In Group items by select Recipient Name;
5. Then click Ok and Ok again to close the Advance View settings window.