This guide will provide instructions on how you can change/fix the time zone within Outlook (Web).
Issue
The 'sent' times on emails are incorrect and / or the dates set on appointments and received in the Outlook Web App don't correspond to the dates in the Outlook desktop client.
Cause
If the time zone was not set when first logging into the Outlook Web app (Webmail) then it may have defaulted to the incorrect time zone.
Solution
To change the time zone, follow the steps below.
1. Access the Outlook Web app by going to webmail.derby.ac.uk;
2. Log in by using your username and you staff login password;
3. When in Outlook, click the settings

button;
4. Click Mail;

5. Expand the General menu (on the left) and click Region and time zone;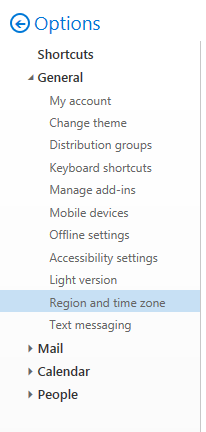 6. Ensure the Date format and Time format are set correctly;
7. Ensure the time zone is set to (UTC+00:00) Dublin, Edinburgh, Lisbon, London;
8. Click Save at the top of the page.