NOTE: To run SPSS on a university student computer, launch it from 'Apps Anywhere' on the desktop.
To install SPSS version 25 to your own PC, please follow the instructions below.
For system compatibility information and system requirements, please see this site.

Uninstall any previous version of SPSS from your computer (this will not delete any SPSS files you have created from your PC) before installing SPSS 25.
1. Log into UDO and select the Course Resources button.
2. Select the Resources button;

3. SPSS will show in the list of software under the 'Software Downloads' section, click the SPSS link;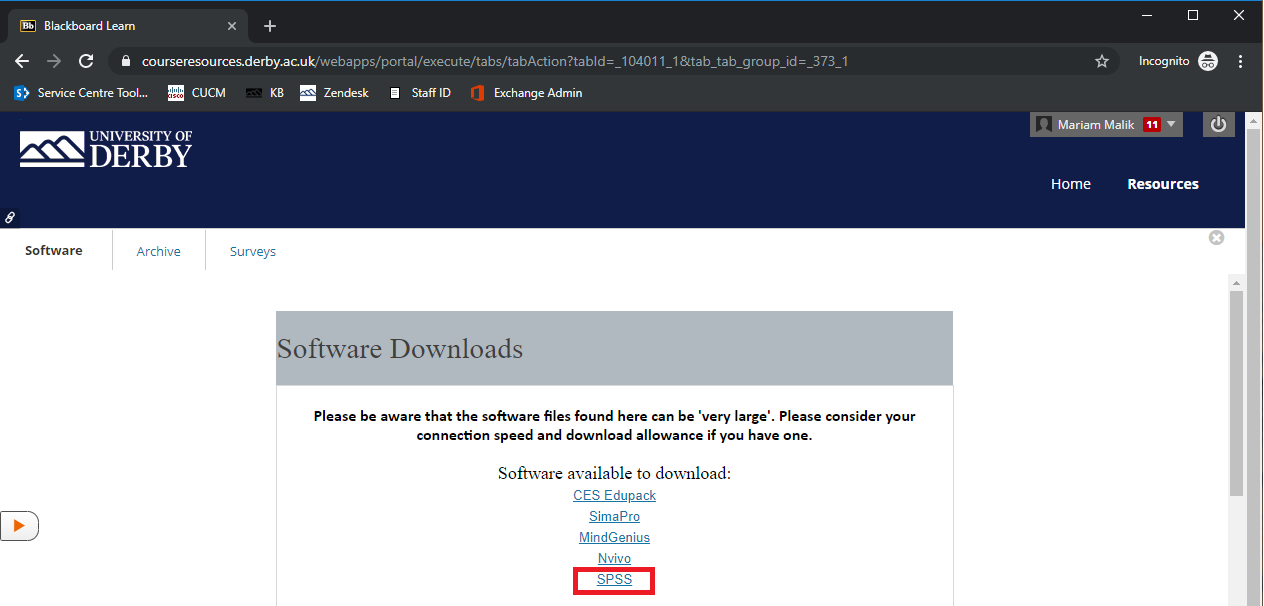 4. Select [Download now] next to SPSS 25 for Windows 64bit (exe) or the SPSS 25 for Windows 3bit (exe) (depending on your Windows architecture) and save the file to a suitable location on your PC;
5. Navigate to the SPSS file you have downloaded, right click on it and select Run as Administrator;
6. Click Yes to allow the program to make changes to your device;
7. Select Next on the initial setup screen;
8. Accept the licence agreement and select Next;
9. Ensure Yes is selected when setup asks if you would like to install Essentials for Python, then click Next;
10. Agree to the licence for Essentials for Python, and select Next;
11. To install SPSS to the default folder, click Next on the screen that asks where the program should be installed (or change if required);
12. Click Next again when the wizard is ready to install the program;
13. The program will install;
and Python will install:
14. Setup will display confirmation that the program has installed successfully. Click Finish.
Licensing
Important: you will now need to add the licence to the program, please follow this guide that shows how to do this.
Installing the Patch
Once you have installed and licensed the software, please install the SPSS25 Patch Fix for Windows 64bit (or 32bit depending on your version of Windows) from the UDO SPSS download page
1. Download the patch file to a suitable location on your PC;
2. Locate the setup file, right click it and select Run as Administrator;
3. Select Yes to allow the software to make changes to your PC;
4. The setup wizard will extract the files;
5. Click Next on the Licence materials page;
6. Agree to the terms and conditions and select Next;
7. Click Install;
8. Allow the program install the patch, when complete a confirmation message will appear. Click OK.
9. You will need to re-boot your PC for the configuration settings to apply.
You have now installed SPSS v25, licensed it and installed the patch. You can now use the program.