This guide will provide instructions on how you can block an email address or sender from Outlook. This can be necessary for spam or other repetitious emails.
Issue
You receive a marketing or spam email (or multiple emails) from a sender you no longer wish to receive.
Note, if you receive multiple marketing emails from a genuine company or organisation, there should be an 'unsubscribe' link in the email - only select this link if you recognise the company sending the email. This will take your email address off the senders mailing list. Please report spam email to the IT Service Centre by raising a ticket via the webform: https://itservicecentre.derby.ac.uk
Resolution
To block a sender in the Outlook desktop client and re-direct all of their emails to the Junk Email folder, follow the steps below.
1. In the list of emails, right click the email, click Junk > Block Sender;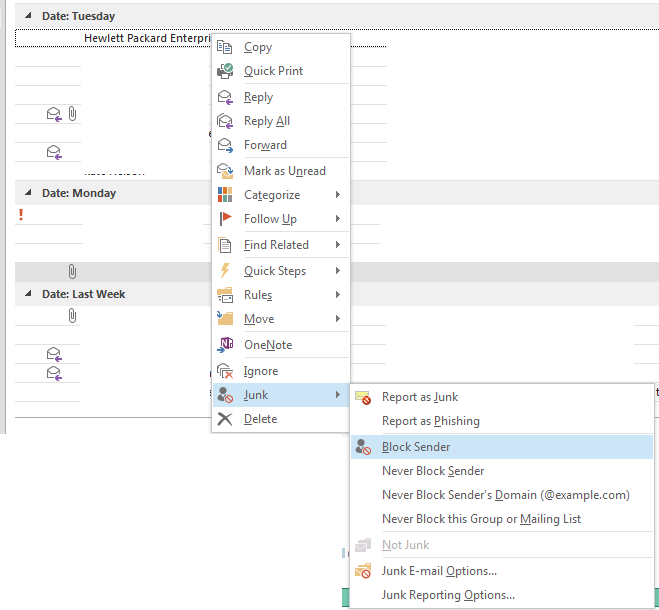 2. Outlook will then confirm the sender has been added to the Blocked senders list.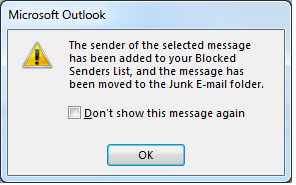 To block an address in Outlook Online
Right-click the message and select Mark as Junk.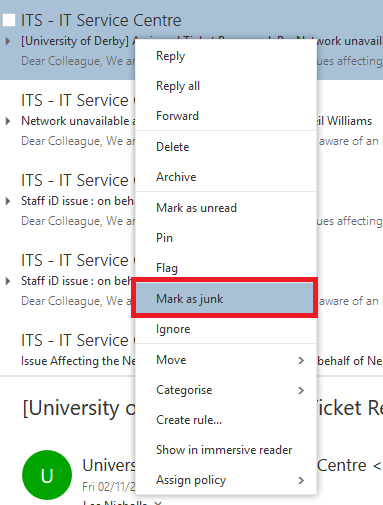 To remove a sender from the block list
If you find an email in the Junk Email folder and know the sender, follow the steps below to remove their address from the blocked sender's list.
Shared mailbox. To edit the blocked email senders on a shared mailbox, you will first need to ensure you have added the mailbox by following this guide. You will then need to select the shared mailboxes 'Inbox' folder, then follow the steps below.
1. In the Home tab, click the arrow next to the icon as shown below and select Junk E-mail Options;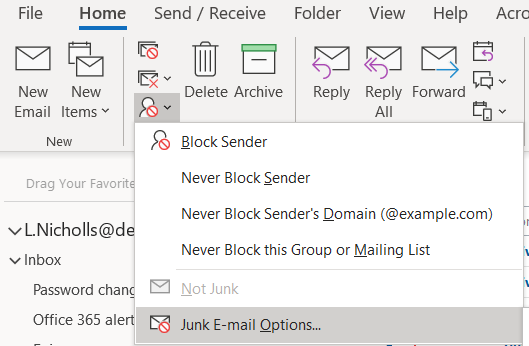 2. Click the Blocked Senders tab;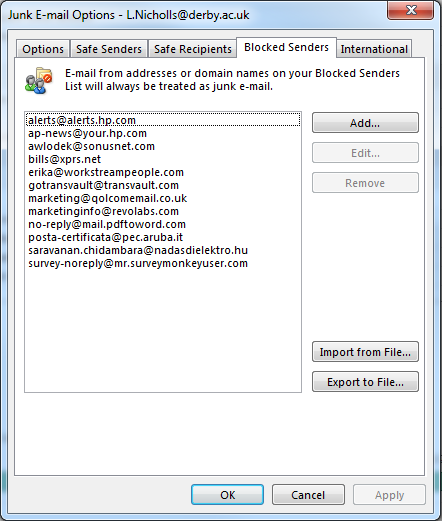 3. Select the trusted email in the list and click Remove;
Note: If the blocked senders address is not showing in the list, but the email still goes to the 'Junk Email' folder, follow the steps below to ensure the address will not be marked as spam.
Select one of the emails;Click 'Junk' > 'Not Junk'; Ensure the Always trust e-mail from...checked box is ticked and click OK.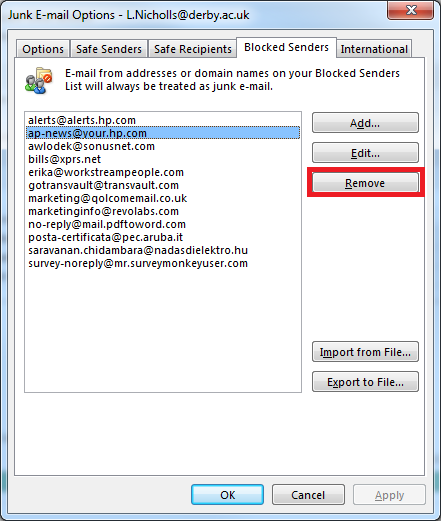 4. Select OK. Emails from that address will now go to your inbox and not the Junk Email folder.