This document details the step necessary to create automated set of email rules using Outlook.
Requirements
- Access to computer with Internet connection
- University Account
- Microsoft Outlook
Procedure
Launch Microsoft Outlook using desktop icon or using the start menu search function or browse folder in All Programs List.
NOTE: Your computer might be running different version of Outlook such as 2010, therefore icon may look different. This procedure works on either version of Outlook program.
Desktop Icon:

Search in using search bar in start menu:
Browse All Programs List in Start Menu: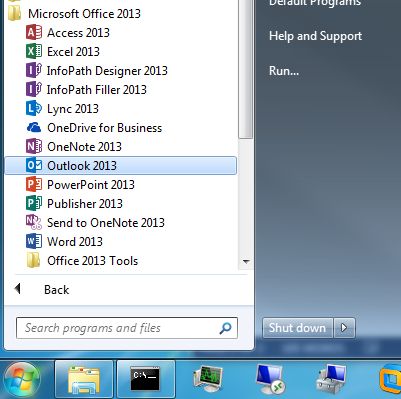 When Outlook has finished loading, navigate the ribbon by clicking the Home Tab, and find "Rules" Icon:
Click on Manage Rules & Alerts....
New windows will appear showing you the current list of all E-Mail Rules created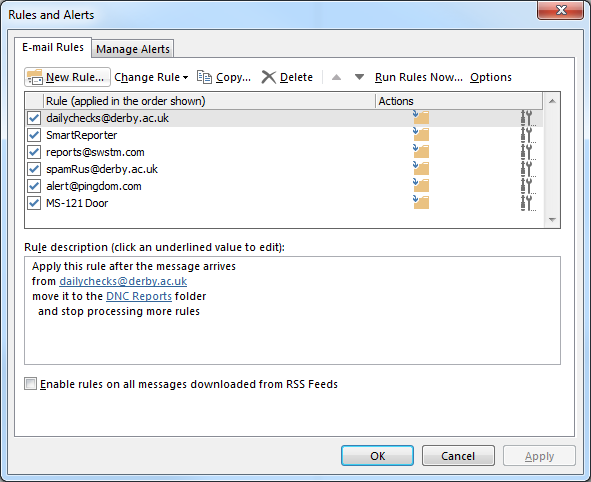 NOTE: Rules and Alerts Window provides users with an overview of their email rules created. Here you can create new rules, delete or copy existing rules.
Click on "New Rule…" to create a new rule. This will launch Rules Wizard.
In this example, we are going to create a new rule to Move message with specific words in the subject to a folder.
Click on "Move messages with specific words in the subject to a folder" and click "Next".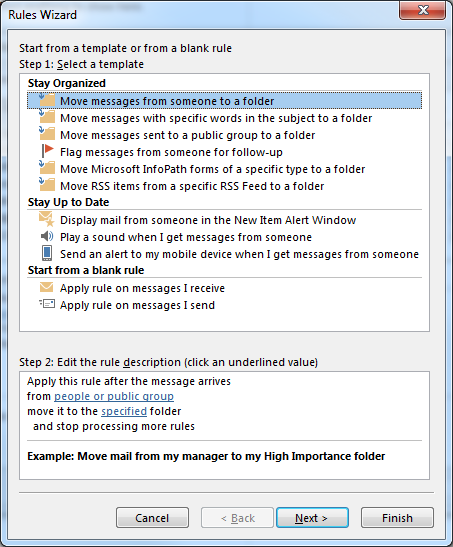 Another Rule Wizard window will appear with conditions. Ensure that the following condition is checked: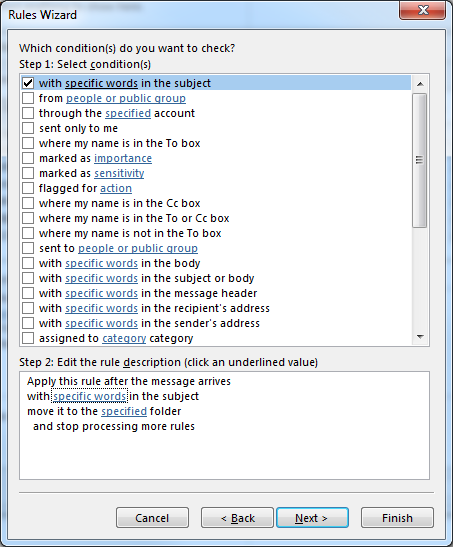 Then in step 2 of the Rules Wizard screen, click on "specific words". Now enter desired words or phrases to the search field and click the "Add" button to add the word to the list. Click "OK" to confirm.
You will be send back to the Rules Wizards screen where you will need to specify which folder you want emails with the specified phrase to be moved into. Do so by clicking "specified" folder option:
Here you will select your desired folder location for all messages containing specified word to be automatically moved into. In this example, select "Junk E-Mail" folder to move the POSSIBLE SPAM subjected emails. Click "OK" to confirm your selection.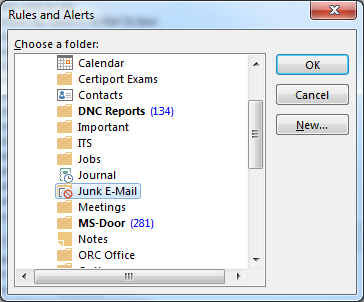 You will be send back to the Rules Wizard once more. Click "Next" twice to continue. You will reach exceptions condition, where you can allow rule to except from certain people or group. For this procedure, we will continue by clicking "Next" On the last Rules Wizard Screen, you can name the rule and either enable or disable it. Choose your desired name and click "Finish".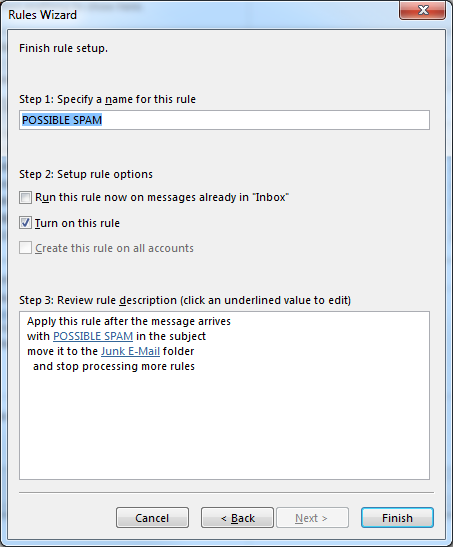 You have now successfully created a rule to move all messages with "POSSIBLE SPAM" subject to Junk E-Mail automatically.
-------------------------------------------------------------------------------------------------------------
NOTE: See attached document on the bottom of this procedure for more detailed description including arrows and images for this procedure.
Contact Details
IT Services - University of Derby
Tel: 01332 591234 Email: itservicecentre@derby.ac.uk