Remote Desktop Connection
RDP for short, is a proprietary protocol developed by Microsoft allowing remote access to computers over a network connection.
Requirements
- Computer connected to University Network via VPN
- Valid Staff account
- IP/Computer Name
NOTE I:  Staff ID added to the Remote Group on the destination PC (Please provide details of the PC that you would like to remotely access when requesting VPN access via IT Service Centre.)
NOTE II: See FAQ Article : Setting Up VPN Access on your Personal Computer for Remote Desktop Access to ensure that your computer is set up and connected to University Network Via VPN before proceeding.
1. Start by launching Remote Desktop Connection on your computer. Search for the program using search function built into Start Menu
2. You will be prompt to enter the name of the computer you are trying to connect. You can also use IP address instead. Enter the details and click Connect
NOTE: You can find this information by using IT Support app on your work computer before proceeding.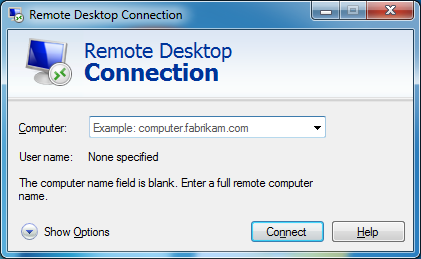 3. Enter your credentials
NOTE: Use other account option as you will need to change domain to University See the screenshot below: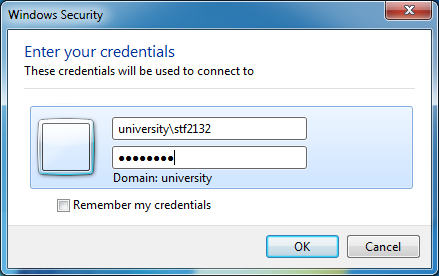 4. When correct credentials have been used, you will see certificate notification, click Yes to proceed.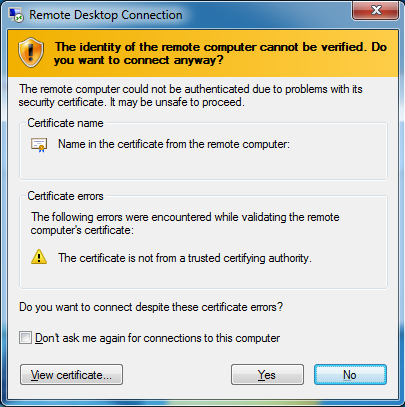 5. Lastly, you will be presented by log in screen where you will be required to enter your staff log in details.
If followed carefully, you should now be able to access your work computer through VPN from home.
Contact Details
IT Services - University of Derby
Tel: 01332 591234 Email: itservicecentre@derby.ac.uk