BROWSER SUPPORT
Browser Support for Collaborate ULTRA Experience (15 May 2020):
As of July 1, 2020 Collaborate will support these browser versions:
Microsoft Edge (Chromium) 80+
Google Chrome 79+

All older versions of these browsers will no longer be supported. For more details on supported browsers, go to the Browser Support page on help.

If you are running an unsupported version of Microsoft Edge or Google Chrome, please update your browser to the latest version.
NB: FIREFOX is no longer supported. Users may well use it but will likely experience issues e.g.
Known Issue: When in a Collaborate session the mouse cursor is not displayed to participants when the whole desktop or a single application is shared using Firefox 74+. This is a function of the Firefox browser and is not related to Collaborate Ultra. The mouse cursor is displayed to participants when applications are shared using Chrome, Edge (Chromium) and Safari.
Known Issue: Collaborate Ultra Firefox 87 users connecting via TCP or TLS cannot connect to the session. Users will see an Error: "Uh-oh. You can't connect. Try to rejoin." Other browsers and versions of Firefox are not affected by this issue. Affects Mac and Windows users on Firefox 87. [BtB: 000075427]
----------------------------------------------------------------------------------------------------
PROBLEMS STARTING SESSIONS
If there are issues starting a Blackboard Collaborate session then:
1. Check the system requirements for Blackboard Collaborate
https://blackboard.secure.force.com/apex/publickbarticleview?id=kAB700000008P8m
2. Try the Configuration Room
https://blackboard.secure.force.com/apex/publickbarticleview?id=kA770000000CbIW
This creates a sample session with Blackboard Collaborate server in Europe. If the session starts then everything is setup ok.
3. If the Configuration Room does not start then it will give a link to the Launcher file (a .collab file). Look on the page for this text:
"download the Blackboard Collaborate Launcher."
4. There are some general how-to and training resources for Collaborate on this page:
http://www.blackboard.com/support-for-blackboard-collaborate.aspx
5. Security
There are four core features of the Collaborate platform that help ensure a secure virtual classroom experience:
Restrict participant permissions – This feature enables instructors to ensure that only session moderators can control the whiteboard, video/audio, and chat
features.
Secure authentication – This ensures students are able to access only those virtual classrooms assigned for their course (this requires integration with an LMS).
Unique session links – This enables instructors to send a secure, unique link to session participants (LMS not required).
Restrict access – This enables instructors to restrict the list of those who can enter their virtual classroom, by disabling access by unauthenticated users.
There are additional instructions on securing Collaborate
----------------------------------------------------------------------------------------------------
BROWSER FREEZES INTERMITTENTLY WHEN SHARING APPLICATION OR SCREEN ON WINDOWS.
Some users have reported that browsers freeze, or become unresponsive, intermittently when sharing an application, or sharing their screen in Collaborate Ultra on Windows. This issue does not affect all users and does not occur during all sessions. The issue has reportedly occurred while using different browser versions on Windows.
Symptoms:
The user sharing an application or their screen may experience the Collaborate tab, or entire browser, freeze for 1-2 minutes before becoming responsive again. It has been reported in some instances that the browser crashed or remained frozen indefinitely, requiring a force quit.
Resolution/Workaround:
1. One workaround is to try using a different supported browser until a fix is released.
2. Chrome users should disable "Hardware Acceleration" by going to chrome://settings > Advanced > under System turn off "Use hardware acceleration when available" > Relaunch Chrome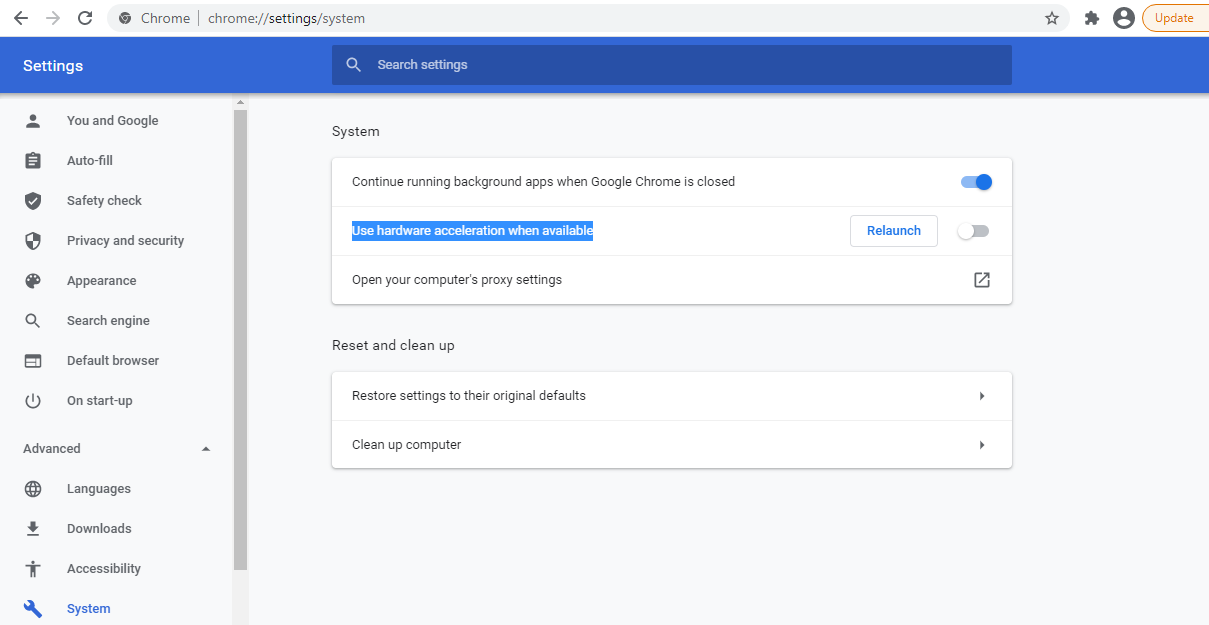 3. Another possible workaround for moderators who are app sharing presentations is to upload the file to the whiteboard instead, if possible. This is also a best practice for optimizing bandwidth consumption.

This is an intermittent issue. Our development team is prioritizing investigation work to find a resolution for this issue. This article will be updated when the issue is fixed. You may click in the top right corner on "Follow" to be informed of updates to this article.
Information:
To report this issue effectively, we will need to send Blackboard as much of the following information as possible:
Browser name.
Browser version number.
Windows version number.
A brief description of what happened, including as much detail as possible about what you were doing at the time the issue occurred.
A brief explanation of what you expected to happen at the time the issue occurred.
Can you easily replicate the issue?
Copy browser console logs and paste into the case, if the browser did not become completely unresponsive and require a force quit.
Copy "Report an Issue" report from any session and paste into the case.
----------------------------------------------------------------------------------------------------
PROBLEMS WHEN TRYING TO SHARE APPLICATIONS IN COLLABORATE ULTRA SESSIONS
Chrome or Edge with Chromium crashes when application sharing for a small percentage of Windows 10 users with Realtek drivers.
The Google Chrome or Microsoft Edge browser crashes when application sharing in Collaborate Ultra for a small percentage of Windows 10 users with Realtek drivers. This issue seems to be a problem with Chromium and the driver.
Affected Platforms
Windows 10, Google Chrome browser, Edge with Chromium, Realtek driver
Cause: The issue seems to be an incompatibility between the Realtek exe and Chromium's application sharing module. https://support.google.com/chrome/thread/45541893?hl=en&msgid=54636814
Resolution/Workaround:
Workaround 1
To fix Chrome or Edge, please try the following workaround:
Using Window's search bar, search for: SwUSB.exe
Rename the file to something similar to SwUSB-rename.exe
Restart your computer and try application sharing again
Workaround 2
Use Firefox to Application Share
----------------------------------------------------------------------------------------------------
WHEN USING MAC OS "BIG SUR" 11.0 OR "CATALINA" 10.15 AND SAFARI 14 WITH COLLABORATE ULTRA, THE AUDIO A USER HEARS IS BREAKING UP OR CRACKING.
Affected Platforms
Mac OS "Big Sur" 11.0 and Safari 14
Mac OS "Catalina" 11.0 and Safari 14
Workaround
If Safari 14 is installed on your computer, please plan on using either Google Chrome or Mozilla Firefox with Collaborate Ultra sessions.
----------------------------------------------------------------------------------------------------
COLLABORATE ULTRA SESSION TIME APPEARS TO BE DISPLAYED AT WRONG TIME.
THE TIMES LISTED FOR COLLABORATE SESSIONS APPEAR HOURS AHEAD OF THE ACTUAL TIME WHEN VIEWED IN BROWSER
SYMPTOM: Sometimes, when users go to access their session, they find it has already ended.
Collaborate Ultra uses the end user's computer's local system clock to display the session time to the user in their preferred local time zone. Sometimes however the local system clock gets manually changed or out of sync in a way which results in Collaborate Ultra not showing the scheduled sessions correctly. For example a session that should be at 2 pm local time is shown as starting in the past at 12 pm.
Affected Platforms
Affected Operating System: Windows
Affected Chrome Version: 88.0.4324.96
Solution/Workaround
Check the computer's system clock preferences and resynchronize with a server to ensure time zone, date, time and daylight savings is set correctly.

Windows: go to Start > Settings > Time & language > Date & time and click on Sync Now
Check that the user has selected the correct time zone and has the correct daylight saving settings.
Check that the Windows Time Service is running.

Mac OS: Apple () menu > System Preferences, then click Date & Time Unlock to make changes, Select Set date and time automatically and choose an appropriate server for your region. Click on the Time Zone tab to select the appropriate Time Zone.
----------------------------------------------------------------------------------------------------
Known Issue: Collaborate session time may appear incorrect in Google Chrome
Cause/s: This issue is caused by a bug in the Google Chrome browser. The bug report can be found at the link below.
https://bugs.chromium.org/p/chromium/issues/detail?id=1168528
Resolution/Workaround:
Impacted users can workaround the issue using the following steps:
Open the Windows Settings application.
Navigate to Date & time.
Under Time zone, select a time zone different than your own.
Under Time zone, select your original time zone again.
[BtB: 000075230]
[UPDATE]There is a bug in the newest version of Google Chrome causing session or activity times to be incorrectly displayed 14 or 16 hours later. Update - February 8, 2021: Google has fixed this issue in Chrome versions 88.0.4324.146 and higher. Please update your Chrome browser to the latest release to resolve the issue
----------------------------------------------------------------------------------------------------
PROBLEM: Intermittent issues with audio and video in some breakout groups
This issue has been resolved for many clients but a few have reported that they continue to experience issues. We are actively investigating to find a resolution for those clients still experiencing issues. This article will be updated when the issue is fixed for all clients.

For anyone still experiencing issues, please try the workaround below.
This issue does not affect all breakout groups and does not occur for all sessions. In a session with more than 2 breakout groups, in some cases, members of some of the breakout groups are unable to hear each other's audio or see each other's video. Other breakout groups within the session will be unaffected by this issue.
Symptoms:
Members of the affected breakout groups may not be able to hear each other's audio or see each other's video.
Resolution/Workaround:
A workaround for this issue is to move all members of the affected breakout group into another breakout group. The other breakout group may be an existing group that is unaffected by the issue, or a new breakout group can be created.
[BtB: 000075201]
----------------------------------------------------------------------------------------------------
PROBLEM: The Blackboard Collaborate Ultra B2 cannot be launched through Safari on iOS or Mac
Date Published: Mar 31,2021
Symptoms
Users get the following error message when trying to launch the Collaborate Ultra B2 for Blackboard Learn using Safari on MacOS or iOS:

Affected Platforms
Safari web browser on Mac and iOS


Cause: The error shown above occurs because the course name contains en quad spaces (spaces of a fixed width) instead of en spaces. Popular web browsers handle these spaces differently. While en quad poses no issue for launching the Collaborate Ultra B2 using Chrome or Firefox, the presence of en quad will cause the Collaborate Ultra B2 launch to fail when using Safari.

Note:
The en quad and the en space both start as a space with a width of 1 en. However, in electronic publishing a few contrast the two by holding that if the font is condensed or expanded to alter the width of the characters, the en quad remains 1 en in width, while the en space is altered in width to the same proportion as the printing characters.
Resolution/Workaround:
Workaround
Be cautious when copying and pasting course names from Microsoft Word which could potentially add non-standard character formatting to your text.
Remove all existing spaces from the Course Name and replace them with standard spaces by pressing the spacebar on a standard keyboard.
[BtB: 000075411]
----------------------------------------------------------------------------------------------------
Known Issue: A small percentage of users are unable to join sessions on Google Chrome or Microsoft Edge.
Summary: A small percentage of users have reported a problem when using Google Chrome or Microsoft Edge to join a Collaborate Ultra session or breakout group, causing them to be unable to join. The users will see a purple spinner that eventually resolves to the following error: "Uh-Oh. You can't connect. Try to rejoin"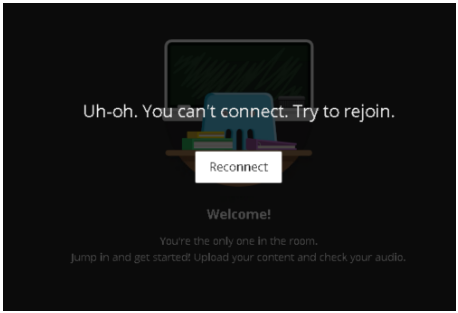 Resolution
On April 20th, 2021 Blackboard released a permanent solution to the issue.
Any users still having issues using Google Chrome should try one of the following options:
1) Make sure that Google Chrome is up to date: chrome://settings/help
2) Clear Browser Cache