Important: If you are signed into a staff PC, please remember to log out and back after changing your password.
There are several ways in which you can change your password:

If you are a member of staff based on campus, the easiest (and most trusted) way to change your password is to log into the Staff iD site and click the Change Password link in the top right of the page.

Use this option if you have 'MENT' or 'OS' account or Staff based on campus with an 'STF', '78XXXX' or '30XXXX' account can also use this method.
1. Click here to go to go the password change site;
2. Login with your username followed by @derby.ac.uk and your current password;
3. You will see the Change password site: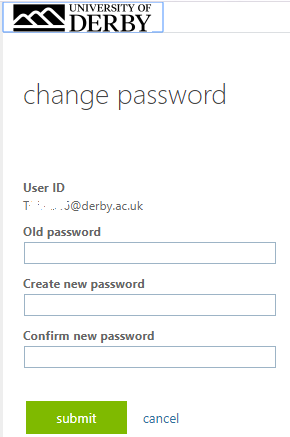 Enter your current password into the Old password field
Your new password should follow the following requirements:
The password must contain:
Uppercase letters
Lowercase letters
A number (from 0 to 9)
At least 8 characters
The password must not contain:
Your name
Your username
A password you have previously used in the system
4. Click Submit. You have now changed your password.
Important: Ensure you update the password on all devices where you have used eduroam or logged into your university email account (webmail), otherwise your account may continually lock.

You can also press 'ctrl' + 'alt' and 'del' on your keyboard then select the Change Password option in the list. Ensure you log out and back into Windows after using this option.
Note: Do not use the Reset password link on the lock screen as this method will not work.