Top tips to optimum inclusivity
Clear print – font style, size and colours
Use a font and size good for readability. Sans Serif fonts such as Arial is considered particularly good and is the University's corporate font.

Avoid using serif fonts, such as Times New Roman or Courier.

Use a minimum font size of 12pt Arial in documents and remember not all fonts have letters that are the same size.

Blocks of text in CAPITALS or italics can be harder to read.
For more information on creating clear print and large print documents go to UK Association for Accessible Formats

Colour contrast is a common accessibility issue, insufficient contrast makes it difficult to distinguish text from a background colour. Always use sufficient contrast colour schemes.  However, avoid high contrast as the greater the contrast, the greater the glare and sensory load, which is an important consideration for readers who experience dyslexia or autism.

Some background colours (e.g. bright yellow or bright red) can make text in any colour difficult to read, although colour combinations are as much down to personal preference AbilityNet.org.uk.  In addition, avoid using white text against a coloured background.

Colour alone should not be used to communicate information.
Images – graphs and maps
Where possible place images at the end of paragraphs and leave space between the text and the image.

Ensure Alt text (alternative text/description) is provided for images so screen reader software will pick up and read the content. Graphs and maps should also be described with a summary of the information displayed.

For more information on adding Alt text to images or charts in Office 365 go to support.office.com
Headings
Use the style headings in the toolbar in MS Word to format headings and subheadings to enable screen reader users to navigate documents and web pages more easily.

MS Word has a number of default heading styles (Heading 1 through to Heading 9). You will need to change them to ensure there is a colour contrast and the font is Arial and of the correct size for accessibility purposes.
Table headings
Use clear defined column headings to make your table's consistent and easy to navigate. Make sure that under Table Options, you select Header Row to enable screen readers to identify the top row as column headings.

Stick to a standard, evenly laid out format and where possible avoid merging cells. Instead think about dividing the information into multiple tables.
Immersive Reader
This can be found in OneNote, Word Online, and Outlook Online and helps to improve reading comprehension and sustain attention. For more information go to: Immersive Reader
MS Accessibility Checker
This tool identifies and explains why each issue might be a potential concern regarding accessibility. You can use this feature to review your documents and follow the recommendations on how to resolve each issue.  For more information go to: MS Accessibility Checker

It is worth noting that MS Accessibility Checker does not pick up on colour contrast, text type and size.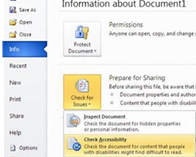 PowerPoint
Use the default layouts for slides and move the text boxes around to suit. This means a screen reader can identify the order to read objects and identify their purpose on the slide e.g. title.

Use a different heading for every slide to help readers distinguish that there is different information on each slide and it is not just a duplicate.

Use a minimum of 24pt font for the body of the slide and larger for the title.

Avoid overcrowding the slides, consider alternative ways this information could be provided e.g. in the notes section or on a separate document

Use sufficient contrast for text colour and the colours used on the background of the slide.
Ally
Ally is a tool designed to make uploaded module content into Course Resources accessible.  It provides:
An automatic check on the accessibility of uploaded content and then generates alternative accessible formats that students can select from.

Feedback to staff on how to improve the accessibility of their module content.

Reporting to help understand the University benchmark and drive future improvements