Accessing PhD Manager through Private Browsing
For those on Windows 10, private browsing (sometimes known as incognito browsing) may offer a solution to members of staff who experience difficulty logging into a system not normally associated with their primary role at the University i.e. a member of staff logging into a system in a student capacity, such as a Post Graduate Student using PhD Manager.
Private Browsing will enable the browser to bypass automatic log in via 'single sign-on' with another ID that you may have previously used.
Step by step guidance for how to access PhD Manager in private browsing mode:
Set your browser to 'private browsing'
Mozilla Firefox (available to download from software center)
Open the menu by clicking on the 3 tiles in the top right hand corner
Select 'New Private Window' from the dropdown
Microsoft Edge
Open the menu by clicking on the More icon  in the top right corner
Select 'New InPrivate Window'.  A new window appears with the message on screen 'Browsing InPrivate'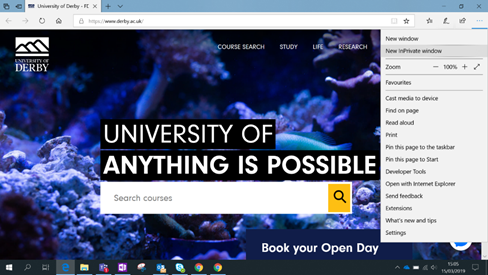 Access PhD Manager
Once you are in private browsing mode, type in the address bar:
https://research.derby.ac.uk           (this example uses Mozilla Firefox)
Sign in
You will then be presented with the University of Derby login page to sign in with the ID you want to use:
Staff enter: username@derby.ac.uk
Students: studentnumber@unimail.derby.ac.uk (to be used if you need to access PhD Manager in your student capacity)
Enter Password
Enter the correct profile password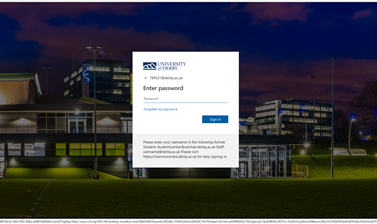 PhD Manager will open in the version linked to the username and password entered.
Still can't log in?  Please contact IT Service Centre for further advice.
Email: itservicecentre@derby.ac.uk
Call:  01332 59 1234