GoToMeeting/GoTo Opener is used to join a webinar. When you attempt to run it on your University PC, you may get the message below. This is because you are running the application from Microsoft Edge rather than Google Chrome.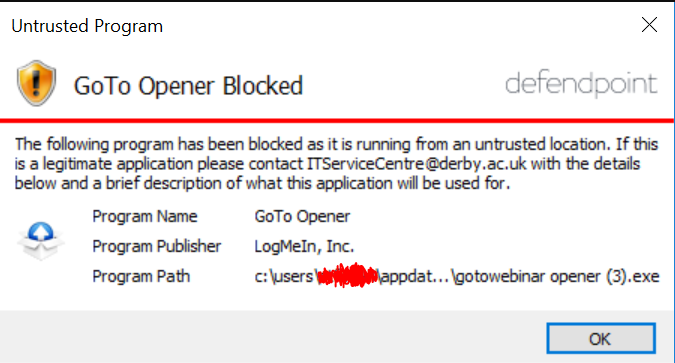 Accessing Link in an Email
If you are accessing the site using a link in your email, you will need to make Google Chrome your default browser so when you click on the link, the site will open in Chrome rather than Edge. To do so:
On your computer, click the Start menu;
Click Settings;
Click on Apps;
Click on Default apps (left hand side);
At the bottom, under Web browser click your current browser (typically Microsoft Edge);
In the Choose an application window, click Google Chrome;
To easily open Chrome later, add a shortcut to your taskbar;
On your computer, open Chrome;
In the Windows taskbar at the bottom, right-click on Chrome;
Click Pin to taskbar.
For further information please contact the IT Service Centre:
TEL: +44(0)1332 591234
Raise a ticket: https://itservicecentre.derby.ac.uk
Live chat: https://itservicecentre.derby.ac.uk