We have developed a Partnerships Hub to provide a one stop shop for information from a range of different departments. This guide will walk you through the steps to take when accessing the Partnership Hub.
If you have any issues with logging in, then please navigate to the bottom of this guide to find the contact details of the Partnerships Team in the format specified below.
If you have forgotten your password please follow the below guide to reset your password. If you are trying to reset your password and it states that you have not set up your self service password reset details, please be aware that IT Services will request proof of ID or request your University of Derby Contact details. Please raise a ticket to get a new password or call on 01332 591234.

Instructions
NOTE: If you have a Microsoft account through your employment at your Partner institution, it may automatically sign you in. To avoid that you can open a private browsing window by following this guide below
How to enable private browsing

1. In an incognito browser window, please access the below link:
https://unimailderbyac.sharepoint.com/sites/registry-Partnership-Portal/
You will then be prompted to sign in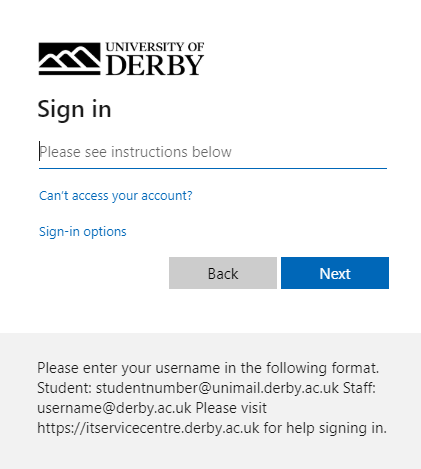 2. Please ensure you type your username in this format. For example, if your username OS1234 then type: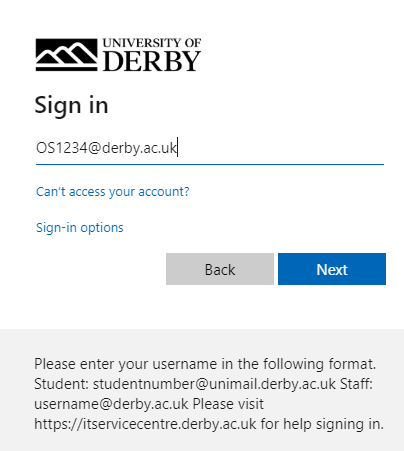 3. Enter your password.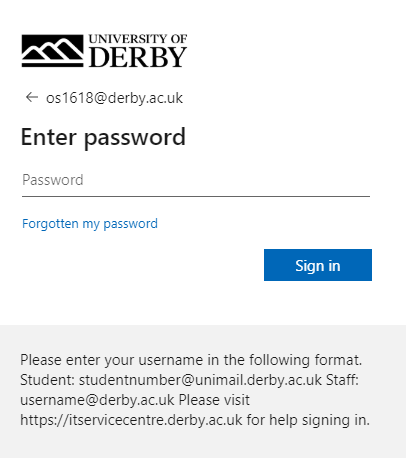 If this is the first time that you have used your account, you will be asked for extra details to help you regain access if you have a password issue or you use a new computer. These systems are known as Self Service Password Reset and Multi-Factor Authentication. Ideally, you will need your mobile phone.

Once setup, you may get prompted to verify your identity at this stage.
For more information please see this guide: Multi factor Authentication Guide
4. Once the sign-in is successful you will see the Partnership Portal as below.
You can then access all sections and pages in the portal which provides a wide range of information from the University of Derby.
If you have any issues with sign-in, please contact the Partnership Team via email, using the following format:
-------------------------------------------------------------------------------------------------------------------------------------------
Subject: Partnerships Hub query
Email: uodpartnerships@derby.ac.uk

Please provide the following details:
University of Derby username: e.g. OS####:
Partner institution:
Partner email address:
Browser:
Date when you last used your account:
Screenshot of the error.
------------------------------------------------------------------------------------------------------------------------------------------
Please click here if you would like assistance taking a screenshot