There may be some occasions where it is necessary to allow a meeting to take place between a group of people, without sharing the contact details of each participant with the rest of the group.
To ensure that attendees email addresses and other details, usually seen in an online meeting can remain unknown, you will need to arrange your Teams meeting via one of the following two methods.
Method One:
Send a Teams meeting link via email
In the Outlook desktop app, go to New Items >Teams Meeting;


Do not add any email addresses or invitees explicitly. Instead, copy the Click here to join meeting link by right-clicking on the link and selecting Copy Hyperlink;


Send an email (not a calendar invite) with the meeting link pasted into the body of the email message, together with details such as the time and date in the email;


Enter your participants' email addresses in the bcc field and send the email;


Note: if the BCC option is not showing, click Options > Bcc

When the invitees click the meeting link in the email, they are presented with a welcome screen and are prompted to enter their name - they can even make up the name, it does not have to be real if they must be fully anonymous. They then wait in the 'meeting lobby' where the event organiser can admit them to the meeting.
You can allow anonymous users to bypass the meeting lobby if desired - this is controlled by the event organiser. By default, anonymous users attending online meetings are always put into the lobby to prevent spamming of such meetings. If you would like attendees to be admitted to the meeting without having to manage the lobby, as the organiser you can click the Meeting Options link which shows alongside the Join meeting link.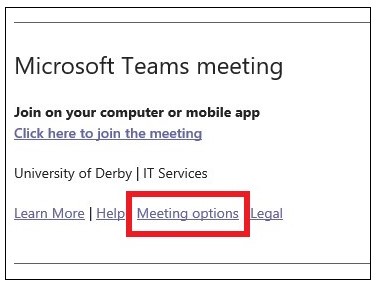 Here's a guide to show you more about how to manage your meeting options and settings.
Method Two:
Via a calendar invite using Outlook online (webmail)
NB the Outlook desktop app does not allow this feature, you will need to use Outlook in a web browser for this method.
Open Outlook from your browser in Microsoft 365. To do this go to Office.com and sign in with your University credentials.
To send the invite from a shared email calendar, click your profile icon, top right, and choose Open another mailbox and enter the name of the mailbox:



Open the calendar, and click on New Event




Click on the Response options and ensure Hide attendees list is ticked




Add in the subject of the meeting where it indicates Add a title


Add in the names of the participants - make sure you have hidden attendees


Choose the correct date and time


Select Add online meeting and choose Teams meeting





Add your meeting description and any attachments you want to share with your invitees


Click Send