Some websites when viewed in Internet Explorer will display or function incorrectly and require Compatibility View be enabled to resolve these issues. In order to determine if the behaviour of a website can be rectified by enabling Compatibility Mode the following guide can be used.
Please refer to the following article to websites currently forced to use Internet Explorer 7 Compatibility View in Group Policy:
https://itservicecentre.derby.ac.uk/hc/en-us/articles/201054291
Please note:
If problems persist after Compatibility Mode has been enabled, please contact the IT Service Centre to investigate further.
If enabling Compatibility Mode resolved the problem, the service centre will need to be informed as the site will need to be added to the internal list of websites IT Services currently maintain which forces the use of Compatibility View. This will help others from experiencing the same problem in the future.
Add a site to the Compatibility View settings

Enable the Menu bar if it is not visible by right clicking the area above the address bar and selecting the Menu bar option.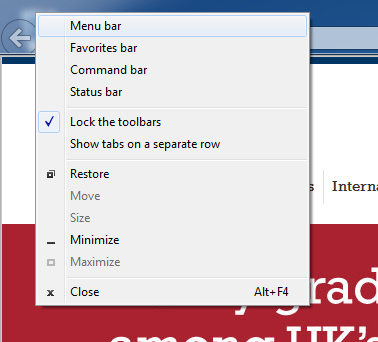 Select Tools from the menu bar and then select Compatibility View settings.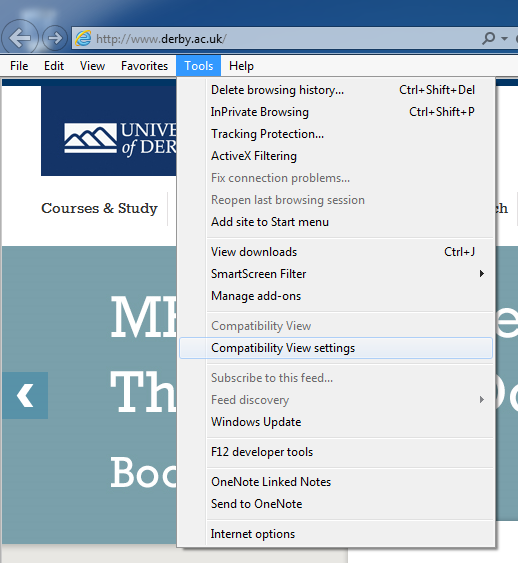 In the Compatibility View Settings windows type the name of the site you wish  to add  - if you browse to that page first it will automatically put this in the website field.
Click the Add button followed by the close button after verifying the site is now listed under the Websites you've added to Compatibility View field.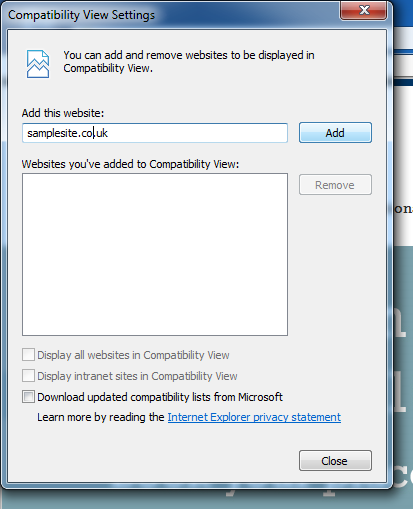 If this resolves the issues experienced with the website please contact the IT Service Centre to inform them of the issue so this can be addresses globally as this will prevent others from experiencing the same problem In the future.