To forward all emails from your student email account (Unimail) to another email address, please follow the steps below.
Log into UDo, then click the Inbox link in the top right which will take you into Outlook Online.
1. Create new email contact for external email address by clicking All Apps;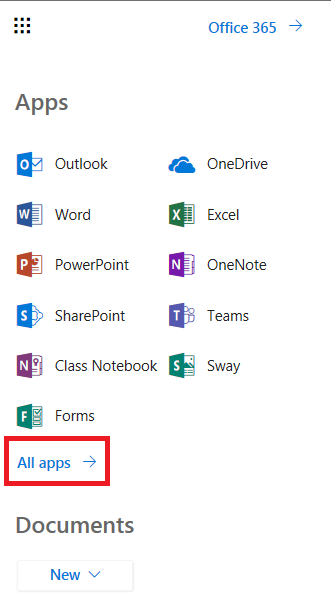 And then find the People icon;

2. Add a new Contact with the email-address you want to forward emails to.
    In People - Click on New and select Contact;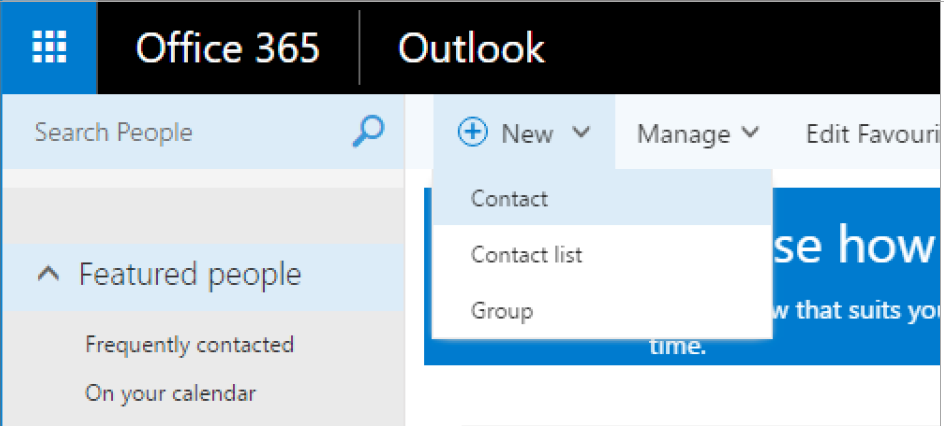 3. Enter First Name and Surname details of your choice and ensure the Email field is set to the address you wish to forward your unimail to;
4. Click Save.
You will now need to set the forwarding rule to your external mailbox.
5. Click the gear icon in the top right and select Mail.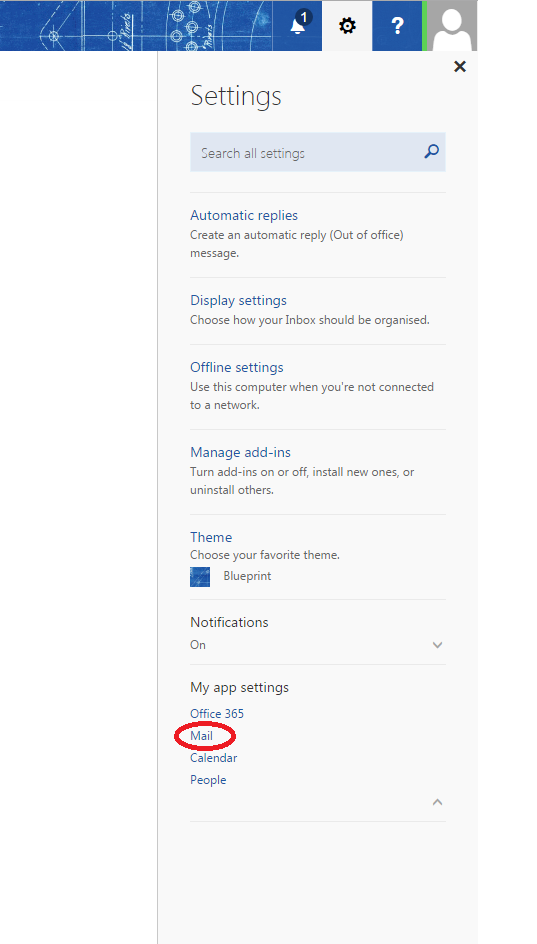 6. Under the Options list on the left, Expand the Mail menu and select Inbox and sweep rules.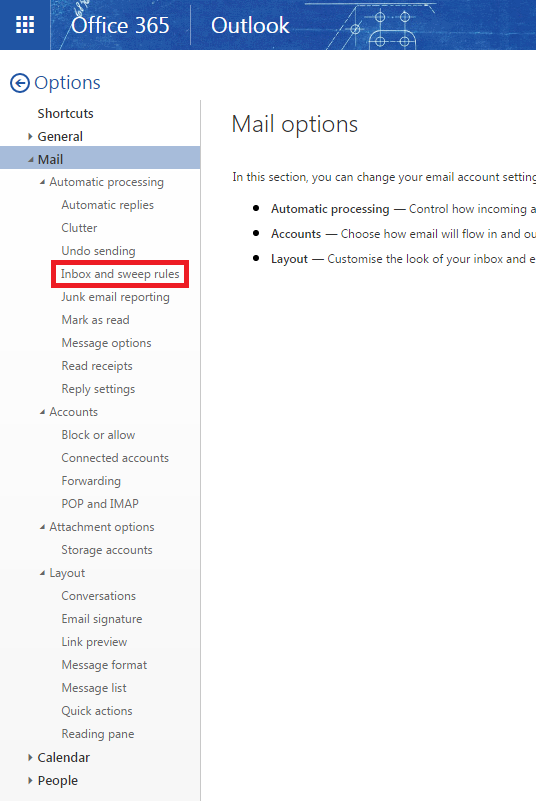 7. In the Inbox rules section, click the + (add) icon;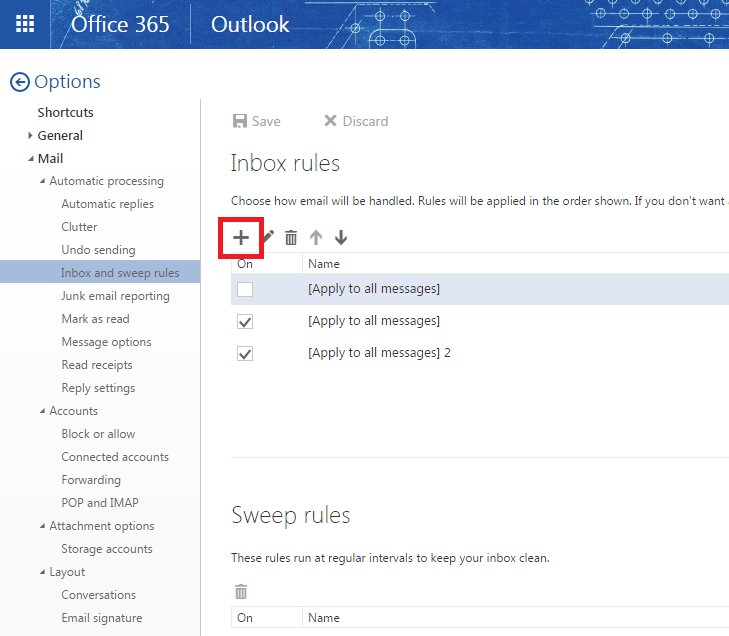 8. On the New inbox rule section, select the following options:
a.    Name
       ○   Type in a name for this forwarding rule such as 'Forward all mail to external mailbox'
b.    When the message arrives, and it matches all of these conditions
       ○   From the drop down select '[Apply to all messages]'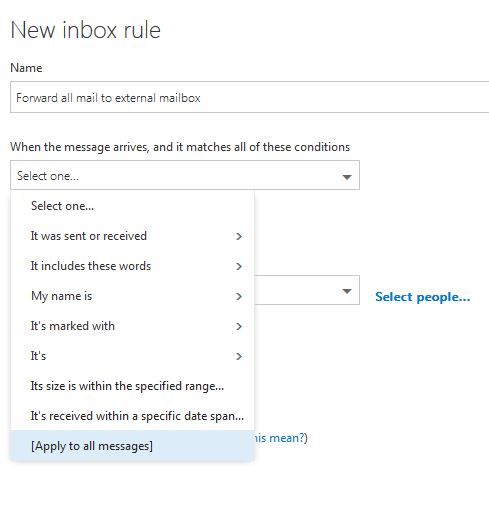 c.    Do all of the following
       ○   From the drop down select 'Forward, redirect or send' then 'Forward the message to…'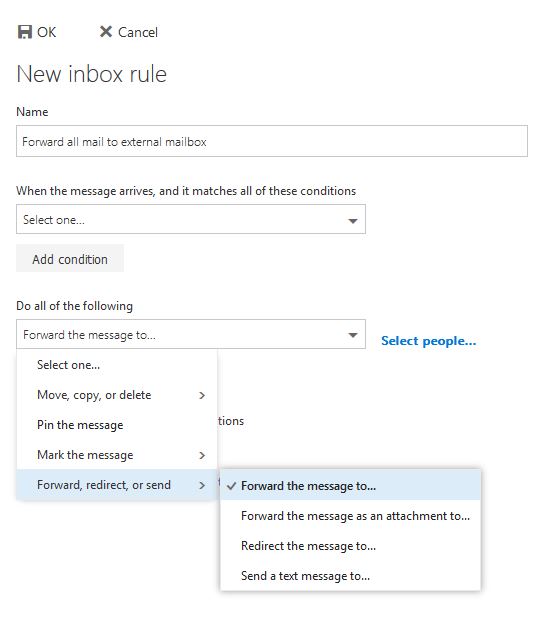 4.    Select the + (add) icon next to the account /Contact you created in step 3;

5. Click Save
6. Click OK to save and apply the rule.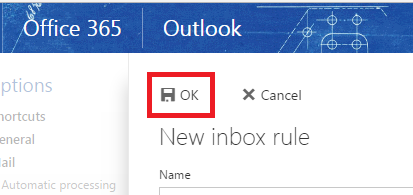 To stop forwarding emails to another address, go to Mail > Inbox and sweep rules, the either remove the tick from the On checkbox, or select the rule and click the rubbish bin (delete) icon.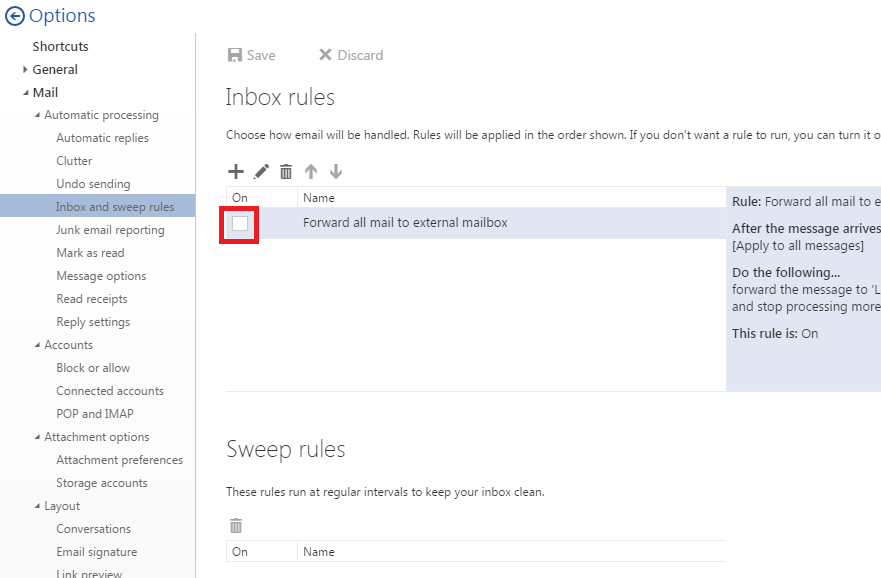 Please test this new rule.

Send a test email to your Unimail address from another mailbox (not the mailbox you are forwarding to - as this will not work), to confirm that the rule forwards the email to your external account.
If you don't have access to another email account you could ask a friend, relative or fellow student to send a test email to your unimail account, or you can setup aliases on a Google mail account (see here), or from an Outlook account - see here.
Note that your Unimail Inbox should still have a copy of the forwarded email.
IT Services cannot guarantee the delivery of all messages forwarded on to another mailbox.  Also, we cannot guarantee delivery of messages sent from your personal email account to the University. For this reason, it is recommended that you use your Unimail account to email your tutors.