Print credit can be added  to your account using your Debit or Credit card using the Online Print Portal.
Higher Education Students:
Click on the Money tile
Click on Print credits
Click on Add Print Credits
Access/Further Education Students:  
Please visit the Online Print Portal
(link opens in a new tab)

Sign in:
Enter your full username e.g. 100435453@unimail.derby.ac.uk and your usual Uni password.

Multifactor authentication (MFA) has been added to the printing service, so you'll also need your phone ready to receive the MFA access code.  If you need help with your MFA, visit our MFA Guide.

The following menu will appear on the left hand side of the Print Portal: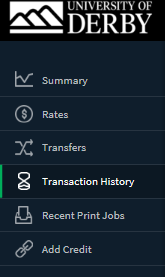 Click on Add Credit from the menu.
Choose amount from the drop down selection into the Amount to add Box  (Min:10p - Max:£20.00.)
Click on the Add Value button.
Click Continue on the Payment Summary Page.
Click Continue on the Select Payment Screen.
Input the required information on the Enter Payment Details Screen (including your address) and click continue.
Check the information on the Review and Confirm Screen and click continue.
Depending on the card you use to make your payment, you may be taken through Authorisation Screens.
A Confirmation screen will appear if your payment is successful.
Please contact your Bank or Card provider if your payment is declined.
You should receive a confirmation email to the email address you have listed on the Enter Payment Details Screen as a record of your payment.