Contents
Using the BluePoint "Create Appointment" Wizard
Create an Appointment - Step 3.1 - Bulk Visitor Creation
What is BluePoint?
This guide has been designed to help you use the most common features for your job role.
You may find that you have a quicker way of getting to the parts of the system that you need. Don't be afraid to try things out, you won't break it!
BluePoint is a next generation Visitor Management system offering an unprecedented opportunity for Buildings to take advantage of the latest Cloud based technologies.
BluePoint offers a wide range of methods for checking-in and inviting Visitors to suit you and your Building.
1. To get started, enter the following address into your web browser: https://go.bluepoint.uk.com
2. Click on the Office 365 link;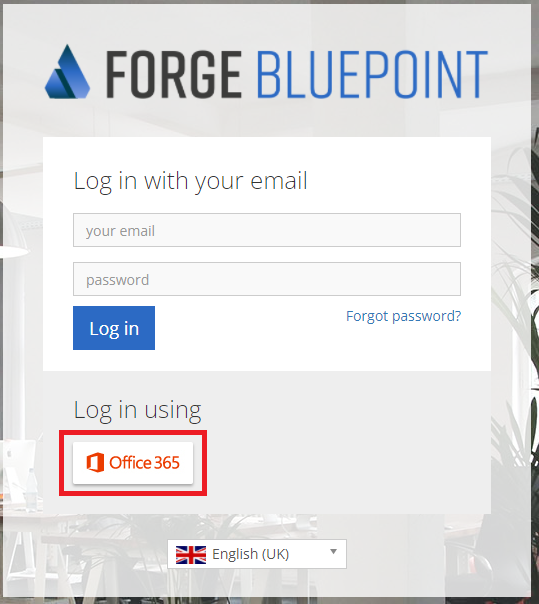 3. This will take you to a Microsoft login page. Enter your staff number/username followed by @derby.ac.uk, for example if your username is 765432, you will need to enter 765432@derby.ac.uk and your usual university login password;
Note: if you are using a university computer, it should log you into the system automatically.
You may see a screen asking you to pick an account, if so, select your account from here;

4. You are now in the visitor booking system.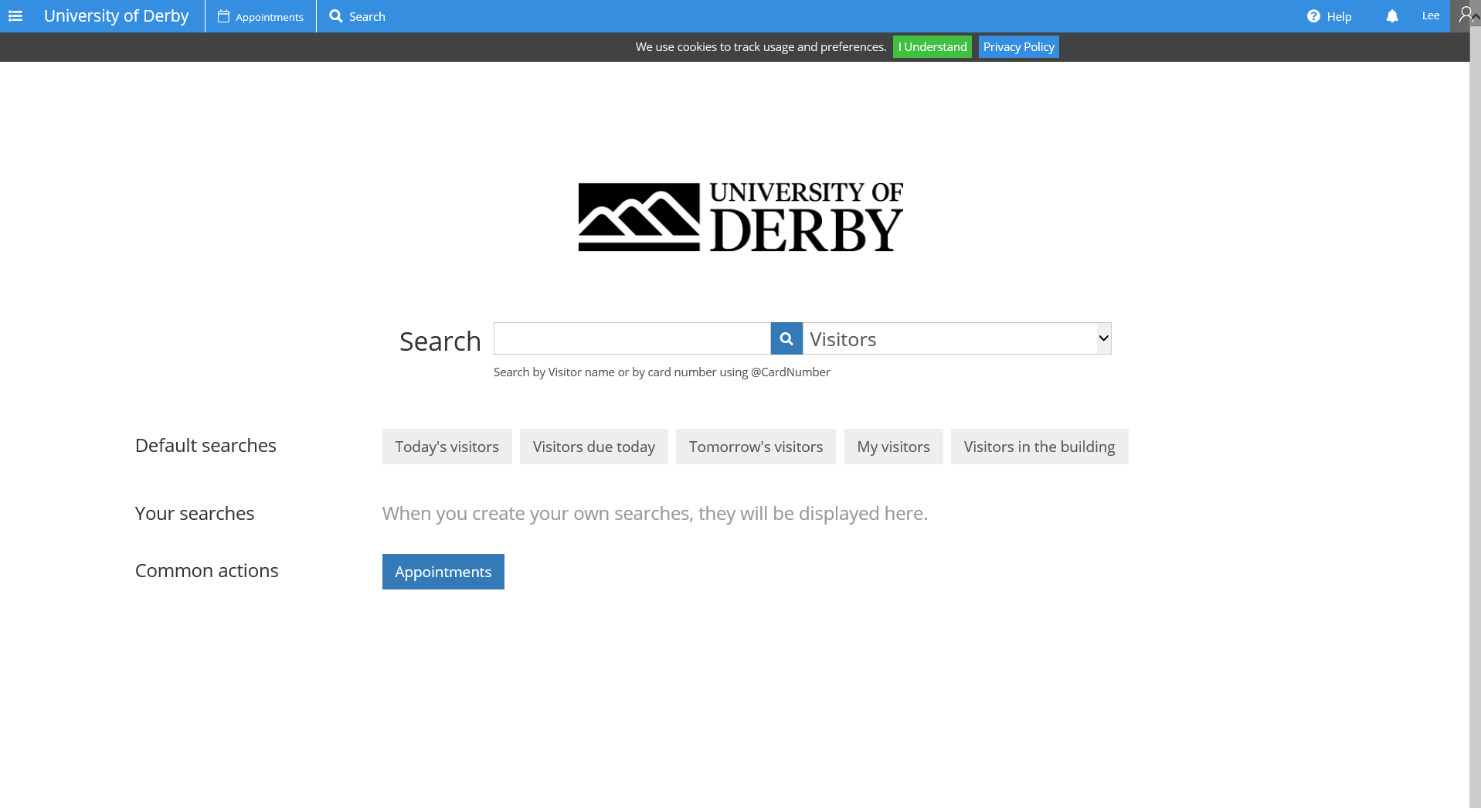 5. Click the Appointments button.
Using the BluePoint "Appointment" Wizard
Sometimes it can be useful to create a meeting using the web browser. First, you will need to log in to BluePoint:
Step 1
To start with you need to fill in the basic information for the meeting. The form hopefully should be self-explanatory and is in line with most calendar appointment systems. (Outlook, Office 365)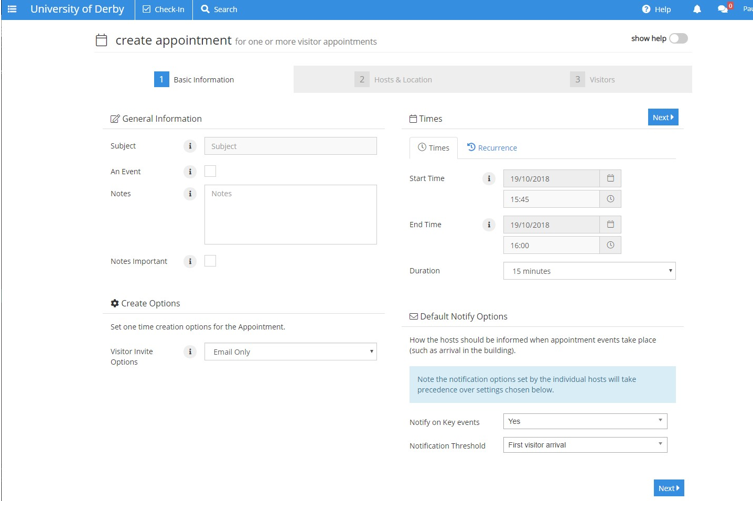 Step 2
Step 2 is about defining the hosts and the location. You can select multiple hosts at this stage and all will receive a notification upon Visitor arrival if their settings permit it.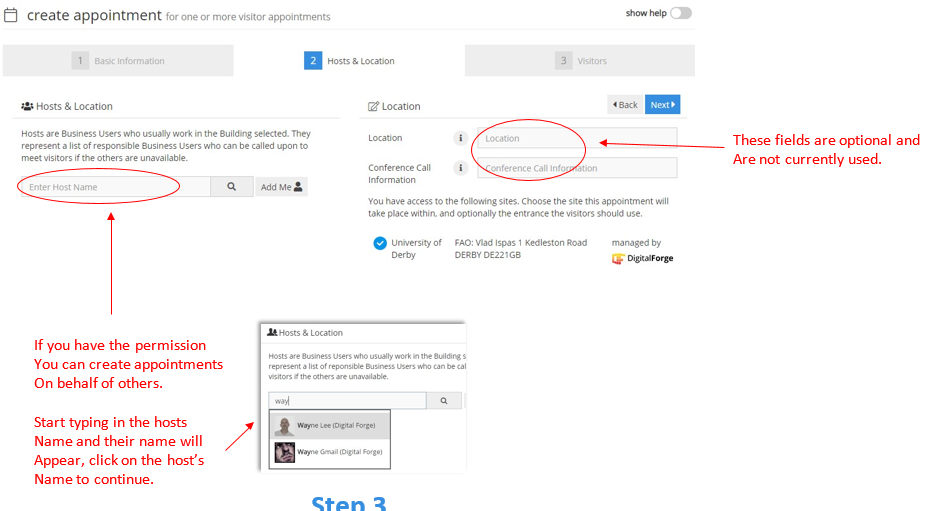 Step 3
Step 3 adding visitors to the meeting. There are 2 ways to do this. The first way shown below is for a small number of guests.
entered for this to take affect.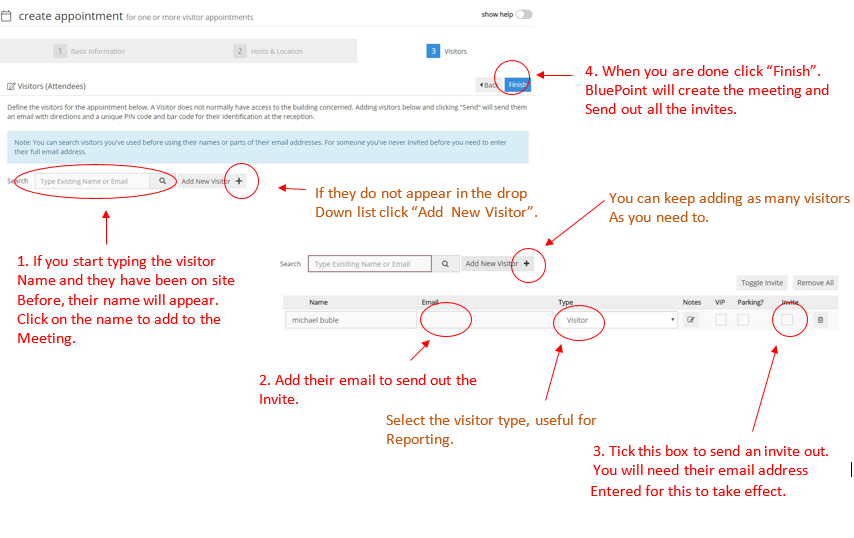 Create an Appointment. Step 3.1- Bulk Visitor Creation
If you have lots of visitors then using the Excel template is a very quick way to add visitors to the meeting. You just need to make sure of the formatting. In the Visitors screen, scroll down and select "Download Template"
Click the "Download Template" button and save the document to your local device.
Open the downloaded CSV file and enter
the details as per the columns. When you
Select the file you saved. are finished, save the CSV file.
Once selected you should see the filename, then click "Upload".
BluePoint now includes these visitors in the meeting. You can now click finish and the invites will be sent out (if you provided the email addresses)
What the Visitor Sees
This is a sample of what your visitor will see in their email. They can check in using the barcode, pin number or by just giving their name at the check-in desk.
Depending on the site setup, visitors can use the barcode on turnstiles/speedgates, checking themselves in.
When your visitor arrives on site they can check in with reception, kiosk or turnstile. Once they have checked in you will receive a notification via email, SMS or both.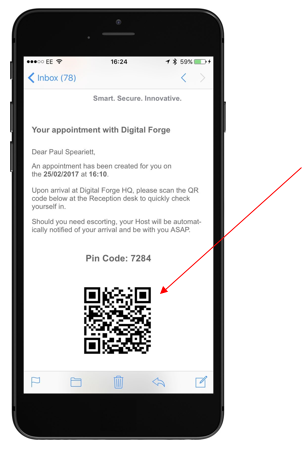 Help
BluePoint was designed to be as simple to use as possible, should you need help you can it in several ways/