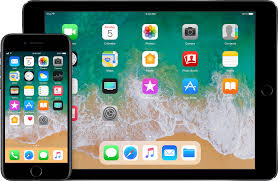 To connect to Eduroam:
Go to Settings on your device;
Go to Wi-Fi;
Select Eduroam from the list of wireless networks;
Enter your University username followed by @derby.ac.uk. For example 100123456@derby.ac.uk;
If your a student and have a username followed by @unimail.derby.ac.uk then this can also be used. For example
100123456@unimail.derby.ac.uk


Enter your University of Derby Password;

Select Join;
Click Trust when prompted to accept the certificate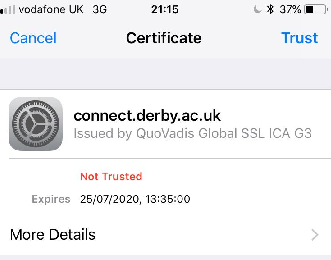 You should now be connected to Eduroam
If you have any issues connecting to the network, you may need to forget the existing Eduroam wireless profile before re-connecting.
To forget the Eduroam wireless profile:

1. Go to Settings on your device;
2. Go to Wi-Fi;
3. Select and hold Eduroam;
4. Select Forget network (Please note, if this is not an option, please repeat the getting connected steps above.
If the above steps do not work, you may need to remove the Eduroam profile from your device:
1. Go to Settings on your device;
2. Go to General;
3. Go to Profile;
4. Select Remove.
If you have any issues connecting your device, please click HERE