1. Click on the wireless icon in the system tray in the bottom right corner of your screen;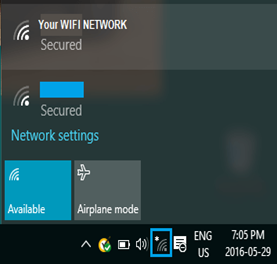 2. Select eduroam;
3. Click connect;
4. Enter your University of Derby username. For example, 123456@derby.ac.uk;

If your a student and have a username followed by @unimail.derby.ac.uk then this can also be used. For example
100123456@unimail.derby.ac.uk

5. Enter your University Password;
6. Click Ok;
7. Click connect.
If you have any issues connecting to the network, you may need to forget the existing Eduroam wireless profile before re-connecting.
To forget the Eduroam wireless profile:
1.Type Settings on the search box.
2.Click Network & Internet.
3.Click Wi-Fi on the left pane of the Network & Internet window.
4.Click Manage Known Networks.
5.Select the Eduroam and click Forget.  Please also forget the following if they are listed: The cloud, Uniguest and Unistaff .