Crestron Mercury units are installed in several staff meeting rooms on campus.
Mercury units enable you to connect your laptop, iPad, Phone etc. with via HDMI or wirelessly to the display screen and present, make video calls using the webcam in the room and use the speaker phone facility
These units are installed in the following meeting rooms:
E402 E403 E502 E503 E505 E513 S212 N307 N206 N211 WLG09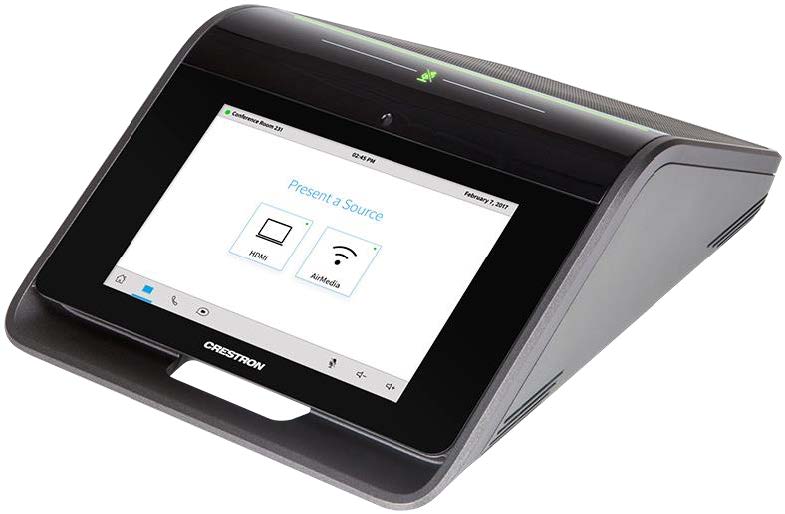 You should find the following in the room:
Mercury Unit (pictured above)
HDMI and USB cable connected to the Mercury
Remote control for the NEC display screen
Basic operation:
1. Power on the NEC display screen with the remote control by pressing the 'POWER ON' button
2. Select the 'HDMI' input on the remote control
3. Tap the Mercury's touch screen to wake up the unit if not already awake.
Connecting via HDMI:
Select HDMI from the home screen
Plug in your laptop into the HDMI cable. The image and Audio from your device will be sent to the display screen.
Using the USB webcam:
If you connect the USB cable to your laptop you will be able to use the webcam that is located above the display screen
Telephone
For a phone call, please press the Telephone button on the home screen. You can also use the Mercury as a speakerphone for your mobile phone by selecting Bluetooth and pairing your device
If you need to call the IT Service Centre for assistance please press the Telephone button on the home screen of the Mercury unit and press the button labelled 'Service Centre'. 
Your call will be connected automatically and a member of the team will assist you.
AirMedia
Select AirMedia from the home screen if you are presenting wirelessly and follow the onscreen instructions - see this guide for more details on AirMedia
When finished unplug the HDMI and USB or press stop 'Stop presenting'
Switch off the display screen with the remote control by pressing the 'Standby' button