To Access the PhD Manager or the Ethics Monitor, follow the steps below
1. Click on the link below and click on Login button;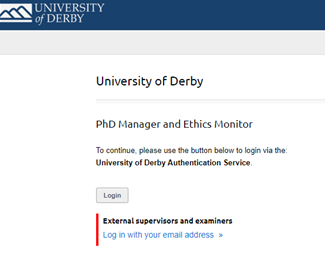 If you need to login to the PhD manager using a different account such as your student account, it's advisable to use a different browser or use a private browser window.
2. Sign in
You will then be presented with the University of Derby login page to sign in with the ID you want to use:
Staff enter: username@derby.ac.uk
Students: studentnumber@unimail.derby.ac.uk (to be used if you need to access either PhD Manager or Ethics Monitor in your student capacity').
3. Enter Password
Enter the correct profile password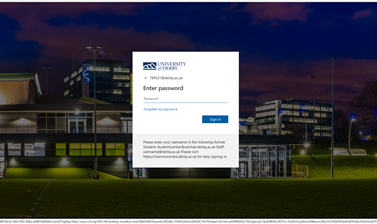 4. The system will open linked to username and password entered.
Still can't log in?
PhD Manager – please contact pgrstudentoffice@derby.ac.uk
Ethics Monitor -
Students and Post Graduate Research Students including Professional Doctorates - please contact your Supervisor
Staff – please contact your College Research Ethics Committee Secretary as follows:
College Arts, Humanities and Education - AHE@derby.ac.uk
College of Business, Law and Social Sciences - blssethics@derby.ac.uk
College Health, Psychology and Social Care – HSCCREC@derby.ac.uk
College of Science and Engineering - deanerysupportKR1@derby.ac.uk
University of Derby Online Learning (UDOL) - udolethics@derby.ac.uk