AppsAnywhere can be accessed on your own personal devices, wherever you are on or off campus. This is accessible via the same address that you're used to:
Need help logging in? Visit AppsAnywhere - Logging in
Getting Started
1. When you access AppsAnywhere on your own device for the first time, you will see the following message - you want to be sure to choose "Install now".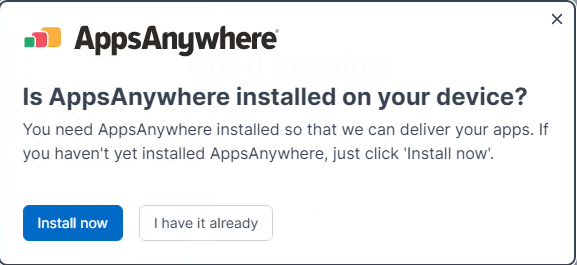 2. As a requirement to use AppsAnywhere on your device, two pieces of software will need to be installed onto your computer, the AppsAnywhere client and Cloudpaging Player. The installer should download automatically but can be done manually on the following screen.
Note: Don't click 'I have completed installation' yet until you've completed step 5 below.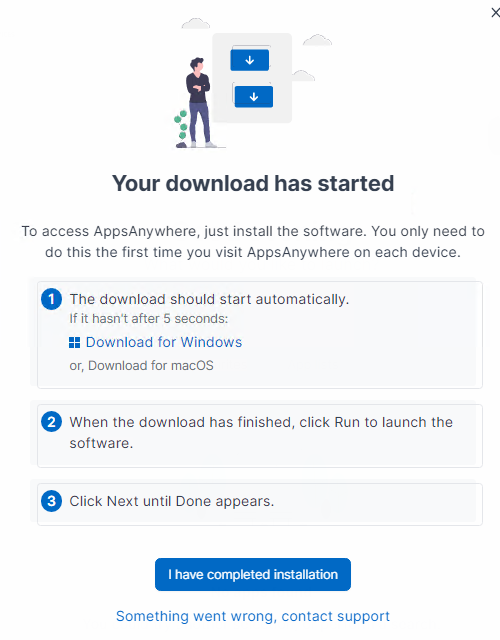 3. You should be prompted to run the application automatically, however, if this doesn't happen you will need to double-click to run the installer from your download location (such as your "Downloads" folder).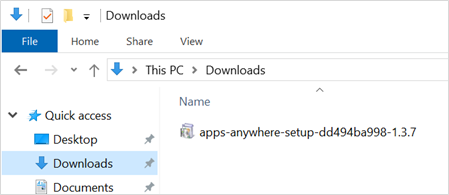 4. The "Welcome to the AppsAnywhere Setup Wizard" screen will appear - just click on "Next" on each of the screens to complete the installation.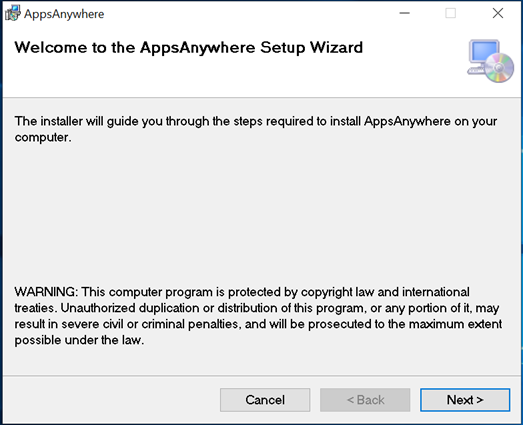 5. Once the install has completed, the AppsAnywhere launcher shall appear - this will automatically download and install the Cloudpaging Player for you, a component that is required to stream applications down to your device.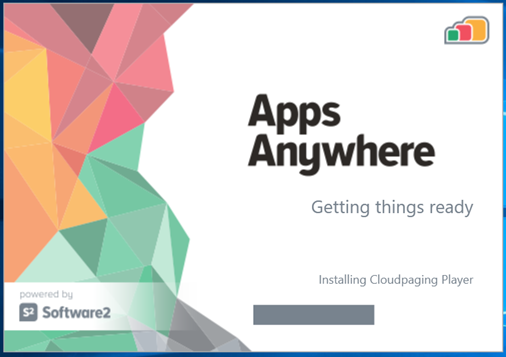 6. Once everything has finished, you can click on the 'I have completed installation' button back on the AppsAnywhere web page.

7. You may then see a prompt to open the AppsAnywher Launcher – click 'Open'.
Note: this message may appear differently depending on your web browser.

Your computer should then validate successfully, temporarily showing a green ticket on the bottom right of the page and allowing you to access your applications.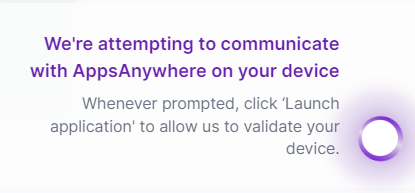 ---
Removing AppsAnywhere Client / Cloudpaging Player from your device
If you wish to remove either the AppsAnywhere Client or Cloudpaging Player, you can do so via "Apps & Features" pane of the Settings app within Windows 10 - for each of these, simply select it in the list and choose 'Uninstall'. You can also remove these via the Control Panel.